---
About Not A Travel Writer
As the tagline says, I am not a travel writer, but a writer who travels. This is a crucial difference. Hi, my name is Alex and I write.
Subscribe to get full access to Not A Travel Writer. Never (accidentally) miss an update (if you get a newsletter in your inbox and choose not to read it, hey, I'm more than okay with that).
What will you read here?
This is a difficult question, seeing as I (currently) deliberately want this to be an experiment, an attempt to share ALL the things that I find interesting, all the influences on my work, all the little musings and notes that eventually, or sometimes, percolate into my writing.
tl;dr: A writer's notebook, if you will. Specifically, the writer's notebook of the globally-feral Alexander M Crow.
Expect updates on fiction, thoughts on the craft of writing, discussion of nature and the natural world, bushcraft, weather, travel, culture, archaeology and history, food and drink, talk of nomadism, of home, of the wind and the stories she blows, of the sea and the pull of waves. I want to talk about happiness, caring, and kindness; discuss how we can return to these to lift ourselves and our fellow humans. Books I read, games I play, gifts I craft, even the exercise and fitness ideas that keep my old joints from seizing up entirely. I will no doubt mention the places I have lived, those that I still call home, despite geographical confusion: Orkney (I count my nationality as Scottish), Yorkshire, Chiang Mai, Caithness, Isère, for starters.
Think of it as me and you, talking softly as a storm rages outside, our conversation winding this way and that, all the while respectful of others and the world as a whole.
In short, I want to demonstrate that our (writers, that is) work is a sum of many parts — as, indeed, are you. What this means and how it unfurls, well, we'll work on that and I expect it will develop over time.
(In case you are interested, the image I am using as a banner and favicon is a collage of pages from my journals: blog pieces handwritten and photographed when I spent three months living out in the wilderness, alone. These were then emailed to my sister/editor, who patiently deciphered the text, typed it up, edited and posted it for me. This was nine years ago and, sometimes, I pause to think about how technology has developed since then and all that has passed in that time. If you subscribe, then you will likely hear more about my wilderness adventures — there is a book on the way, after all.)
Subscribe to Not A Travel Writer
If these mutterings sound of interest, then do please subscribe. The more the merrier. My writing and, indeed, this newsletter, is my way to try and do a little good in this world. For me, story is a powerful message and medium — if I can use words to make people think, all the while telling an engaging tale, then everyone wins. I am not a lawyer, or a soldier, or an activist — this is how I fight the good fight. Join me.
To find out more about the company that provides the tech for this newsletter, visit Substack.com — believe me, I did a LOT of research into newsletters and Substack consistently came out with the best reviews. Have a look for yourself.
About Alex
I am not that young. I was born in 1977, one of the micro-generation of people who experienced an analogue childhood and digital adulthood. Sometimes called Xennials, sometimes 'The Star Wars Generation' — this duality had a definite impact on how I see the world.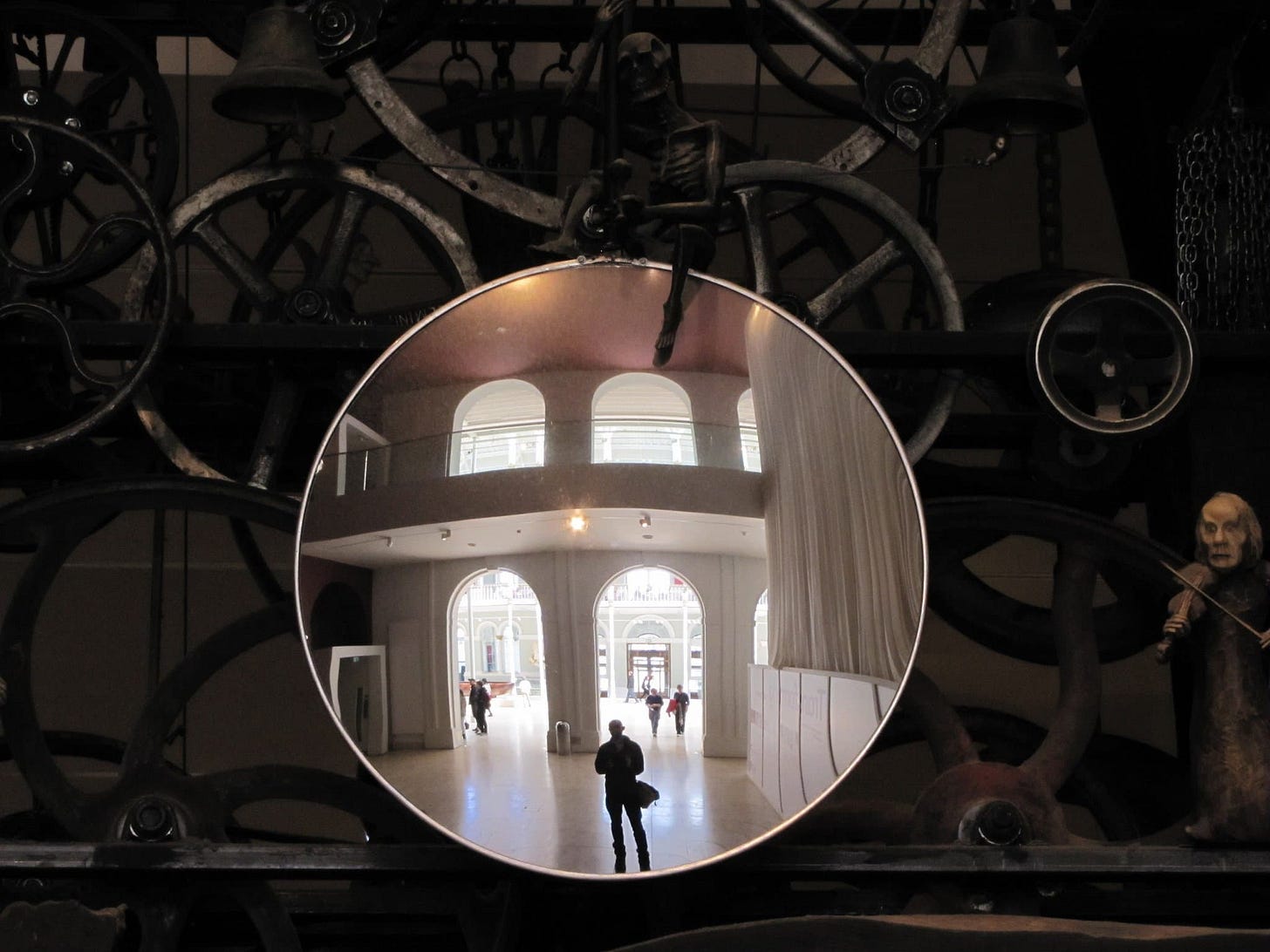 I am Scottish. Technically I was born in England, in a now dead and disappeared county, but my family moved to the far northern islands of Orkney when I was eight and I grew up there. Scotland remains the closest thing I have to a home. The above photo is me, reflected in the pendulum of the millennium clock tower in The National Museum Of Scotland, Edinburgh.
I write for a sort-of-living and travel and live in places where the small amount of money I make from my words goes further. This feeds into my work, new experiences and cultures adding extra flavour and detail.
To learn more about forthcoming fiction and to give a sample of my writing, follow this link to a piece on my site, also called Not A Travel Writer.
If all the above entices or intrigues, then do please: